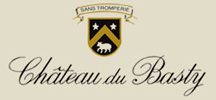 The Château du Basty is a historic family estate. He is in the same family since its creation in 1482. The Varenards, Varenard de Billy, Rony and Perroud lead him successively. Quentin Perroud represents the 17th generation. The Basty has constantly evolve, constantly and permanently. The Château is in conversion to organic farming.
The wines are elaborated with exigency. The combination of the Gamay grape variety, the granite subsoil and the winemaking method makes it possible to produce young, fruity and spicy wines. Manual harvesting and whole bunch grapes are essential for traditional Beaujolais winemaking. The wines, aged 6 to 12 months in oak barrels reveal the characteristics of the years and climates.
The 18-hectare vineyard is spread over the communes of Lantignié, Régnié and Villié Morgon at an average altitude (400 meters). Oriented to the East and the South, the position is particularly favorable to a complete maturity of the grape, optimal condition for obtaining harmonious and balanced wines. The soil is granitic, dry and stony according to the lots.
The combination of GAMAY grape and GRANITIQUE soil gives fruity and spicy wines unique in the world, typical of the region. The combination of CHARDONNAY grape and GRANITIQUE soil gives dry and fragrant white wines.
The vinification and aging are done in the cellars of the castle. Bottling at the castle.