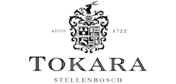 When GT and Anne-Marie Ferreira bought the farm in the foothills of Simonsberg Mountain in Cape Town, South Africa in 1994, the original idea was to build a beautiful family home among the magnificent trees on the estate. So, they began to carve out a new future for themselves on the farm which they named TOKARA, after their children, Thomas and Kara.
Tokara is one of the new stars on the South African wine scene. GT Ferreira, founder of the financial company Rand Consolidated Investing (RCI) 40 years earlier, and thus a shrewd businessman, quickly realized that the farm was located on the best vineyard land in the region, as its neighbours were already producing some of the best wines in the country. GT decided in 1999 to venture into the wine industry and created one of the most amazing wineries in the Cape. From the beginning, his vision was to make TOKARA a world-class winery.
In addition to the 60 hectares of vineyards on his property, Tokara also owns smaller vineyards in Elgin (Highlands Farm) and Walker Bay (Siberia in Hemel-and-Aarde). Miles Mossop has been the winemaker since the beginning, also advised by neighbour Gyles Webb of Thelema Estate. TOKARA produces impressive red wines made from Cabernet Sauvignon, one of the estate's flagship grape varieties and part of the winery since the first harvest in 2000. These wines are a true reflection of everything the estate stands for: refinement, elegance, balance. Their interpretation of Cabernet Sauvignon is the culmination of nearly two decades of work in the vineyards and the winery.
The other flagship variety is Sauvignon Blanc from two different vineyard sites. The grapes are grown at high altitudes in Stellenbosch, as well as on the TOKARA property in Elgin, an area prized for producing some of the best cool-climate Sauvignon Blancs as the Highlands Sauvignon Blanc ripens six weeks later than those from the Tokara vineyards. These wines have a perfect balance of fresh acidity and purity of fruit. The estate also produces Chenin Blanc, Chardonnay and Syrah.
TOKARA's vision of producing world-class wines requires constant attention, without compromise. Being included in the 2018 list of the world's most admired wine brands by Drinks International magazine echoes this commitment.
On the other hand, the Ferreira family, as patrons, supports contemporary South African art and their collection adorns the entire estate. Works of fine art are strategically placed along a sinuous path leading through the olive groves to the gourmet store, where TOKARA extra virgin olive oil is made.