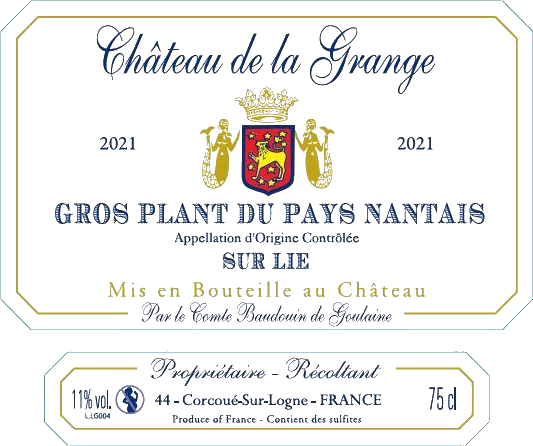 Grape Variety
:
Folle Blanche
Inventory
: Cellier Collection
Format
: 750 mL
Degree of Alcohol
: 11%
Bottles/Crate
: 12
Tasting :
Yellow-green color in the folds of which we can observe fine bubbles. The nose exudes the natural freshness of the Folle Blanche, with its fruit aromas (plums, green apples, yellow and green lemons) and its iodine notes brought by the Atlantic sea spray.
Wine Pairing :
The "Gros Plant du Pays Nantais sur lie Château de la Grange" is to be tasted around a plate of shellfish and seafood.
Winemaking :
Varietu: Folle Avoine 100%
Age of vines : 30 years
Type of soil: Silico-clayey
Yield ofvignes : 70 hL/Ha
Irrigation : : None
Harvest : Machine
Fermentation: Fermentation in stainless steel tanks for 2 weeks.
Maturation : In stainless steel tanks for 2 months. No malolactic fermentation, no maceration on skins. No aging.
Type of yeast : Saccharomyces cerevisiae
Type fining: None, filtration before bottling
Cellar : 1 -2 years
Service temperature : 10 - 12 °C
Sugar: 0 gr/L