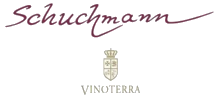 To provide a basis Schuchmann acquired 120ha of the land of which 60ha are currently under vines. Dark fertile soils offer an excellent basis for viniculture!
The oldest vines were planted in 1986.
Two third of the portfolio is represented by Saperavithe leading red variety in Georgia. Deep in colour with tannins and dark fruit notes. This grape offers excellent potential to produce great wine.
9 ha belong to Rkatsiteli which represents our main white wine. This variety offers a young, fresh and lively style of wine.
The portfolio is completed by Chardonnay, Mtsvane, Kisi, Malbec, Merlot, Cabernet Sauvignon and Cabernet Franc
In Kakheti close to Telavi at the foot of the great Caucasus one can find one of the oldest and best wine growing regions in the world. Scientists believe that wine production in Georgia is more than 8.000 years old and that the grape varieties are grown in Western-Europe nowadays actually origin from Georgia and were taken from there by the Romans more than 2.000 years ago
Georgia –a cradle of wine, the place, where a human grew the grapevine and tasted wine for the first time. During archeological researches in the village "Telavi"8000 years old grape seeds were found in wine jugs, also ceramic jugs of the same age. This fact shows that winemaking in Georgia is 8000 years old.
Kvevri is a key authentic instrument in making Kakhetian wine (aka Amber or Orange wine) wine.
Kvevri or Qvevri (alternative spelling) is a perfect vessel for both red and white winemaking at home
The main advantage of making wine in the Kvevri buried in an underground Marani (wine-cellar) is that temperature of storing wine is almost unchanged from winter to summer. Kvevri is not just for storing wine but is also a part of the technological process.
WATCH THE NEW VIDEO OF SHUCHMANN WINES GEORGIA