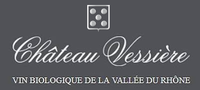 In the heart of the Costières de Nîmes, in the extreme south of the Rhone Valley, Château Vessière extends over 65 hectares of vineyards. Located at the gateway to the Camargue, this family estate benefits from an exceptional terroir and climate. This beautiful property belonged to Mademoiselle Lucie de Vessière, who became the wife of Teulon. The love story between this land and the family has been going on for seven generations.
In 1975, Philippe Teulon took over the reins after studying œnology at the Faculty of Sciences in Montpellier. The first bottling took place in 1978, but the wine was only consumed privately. In 1979, the wine was marketed in France and abroad. Over time, Philippe passed on his passion to one of his sons, Vincent. Vincent, in his turn, studied œnology in Montpellier and then explored the practices used in the Napa Valley in California.
Since 2007, Vincent and his wife Lucie have kept the family story alive. Together, they have changed the way they work, notably by converting the estate to organic in 2009, eliminating all weed killers, synthetic chemicals and insecticides. Since 2019, the domain is also in biodynamic conversion with the DEMETER label.
Vincent has re-planted medicinal plants on the estate, thus reinforcing the vine's defences against diseases, the objective being, in the long run, to no longer use sulphur and copper in the treatment of vine diseases. The main goal of this return to the roots of agriculture is the constant improvement of the authenticity of the wines and the enhancement of the qualities of the terroir. The couple also ensures the commercial development of the company. Together they strive to produce fine and elegant organic wines, for which they are awarded numerous prizes each year.