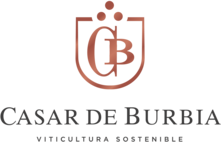 Located within the limits of Carracedelo since 1998, CASAR DE BURBIA is one of the wineries of the Bierzo Appellation that has gotten the most notice from international critics and has contributed to place this region in León on the map for the wine sector.
A family run company that owes its success to the initial gamble of the family patriarch, Nemesio Fernández Bello, who began buying old Mencía vineyards located in the best areas of the region at the end of the '80s that were practically abandoned, especially in the beautiful area of Valtuille de Arriba. Nemesio, originally from Galicia, did so against the tide because back then, the majority of the growers in El Bierzo were getting rid of their vines because they barely made a profit off them.
After various years of acquiring vineyards, the estate has reached 27 hectares (66 acres) divided into a mosaic of 52 plots. The general management and technical department pass over to Isidro Fernández Bello, a tenacious agricultural engineer that has had the know-how to be able to transform the potential of those vineyards to unforeseen limits. Actually, due to Isidro's insight and the ever-growing influence of the French in his enological work, CASAR DE BURBIA has become one of the latest fetish Spanish wineries.
The vineyards owned by CASAR DE BURBIA are distributed, in turn, into three standards of quality depending on their altitude, orientation and characteristics of the terrain. The Mencía variety is the muse of Isidro Fernández's wines, even though the winemaker also grows the Godello white grape variety.
Our vineyards are on the northern face of the mountain of Valtuille de Arriba, privileged in its orientation, south facing, toward the sunrise. The terroir varies depending on the altitude of the vineyard and the plot. We have from more developed clay soil to mineral plots with slate and quartz.
Casar de Burbia is elaborated from grapes from plots at the bottom of the slope, where rainwater causes clay sediments to settle.
Our wines are unique not only because of the special terroir where the vineyards are located, but because we take care of all of our vineyards and wines. Our vineyards are 100% privately owned, allowing us complete control over the production process. Harvesting is done manually, carefully selecting only the best grains, to produce the best possible wine. The terroir decides which of our wines each grain will become. Careful selection and attention produce our singular mountain wines.